Before you decide to surrender your dog please read below!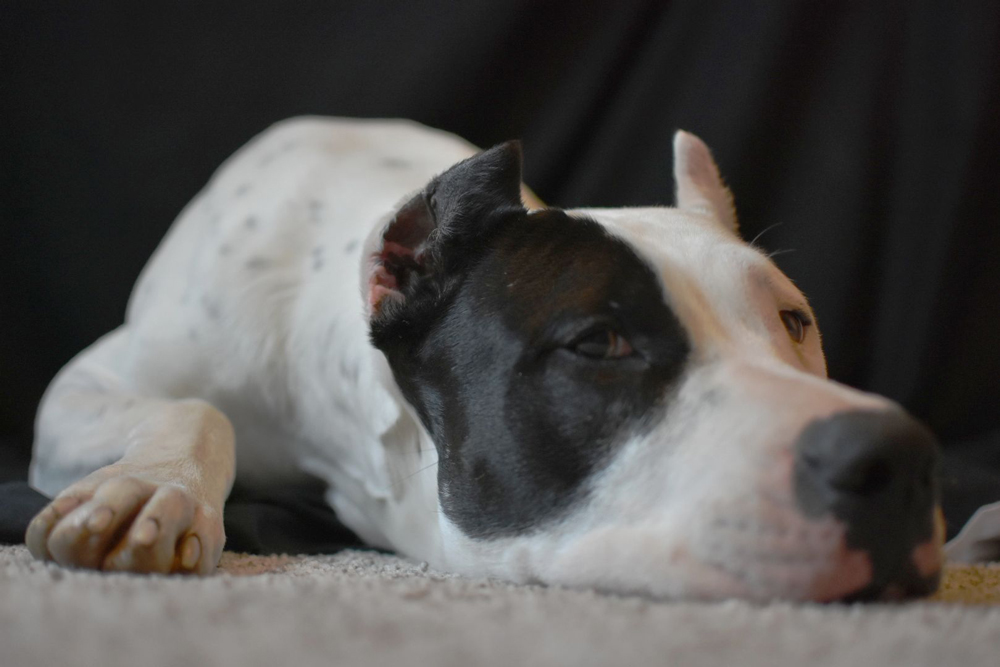 We are a rescue focused on saving dogos in need but sometimes take in owner surrenders. We also like to offer options and resources to owners in effort to keep their dogo in their home!  Depending on your situation, there may be a better option than letting your dog go.
Dogos really love their families and changing that dynamic in their life is often hard on them. They do not do well in shelters and we encourage folks to not dump them in shelters if possible but understand sometimes people have no choice. Read below for options that may be of benefit for you and your dogo.
Below are some common reasons we hear for owner surrenders and maybe one of them relate to the situation you are in.
My dogo is not behaving and I don't have time to train the dog.
If this is your current position with your dogo there are options.  Training a dog is training the handler on how to handle the dog. It will require you to make lifestyle adjustments and implement routines, boundaries, and respect. Sometimes the most subtle changes in the home correct the problem! We highly encourage you to reach out to reputable trainers in your area. We have a dedicated professional and honest phone trainer who can train with you over the phone and her rates are extremely fair for the expertise she provides. For more information please call 877-400-DOGO x808.
There have been MANY successful stories just by the owners reaching out to training! We've had dogs with problems and were completely corrected with proper training and handling.  These dogs have really opened our eyes to the power of training!  Just think if you had a child and never taught or guided that child and how they would grow into an adult. Same goes for dogs but even more so because they have animal instincts, behaviors, and abilities.
Reach out to us if you need some direction on how to work with your dogo.  These dogs seem to come into their own around 18-24 months old so be sure to implement the proper techniques beforehand. If you need some pointers or tips please be sure to contact us.
I need to move and cannot find housing that allows my dogo.
This is a very common scenario and know that there are organizations that do help owners find housing that is dog friendly, specifically for this type of breed. Do your best to find housing to keep your dog! Reach out to non-profits in your area that provide this type of service.  We happen to know of one with and their website is http://www.mypitbullisfamily.org (we are not affiliated with this organization). Keep searching and know that we will be a resource for you as much as we can!
I cannot afford the medical or deal with allergies and other issues.
Dogos can be expensive! Many of them develop allergies and they can turn into secondary skin infections and issues.  The key is to get this under control and eliminate the trigger.  We are happy to speak with you and share our experiences with this struggle! Dogos tend to do well on certain foods and supplements so let us know if we can help in any way finding a solution! Also, there are nationwide and local non-profits that help cover medical costs for those who are facing financial struggle.  Search your area and reach out to us if you need suggestions at paws@dcdogos.org. Here are a few links of some forms related to common issues:
My dogo is aggressive to kids, people, other pets.
The Dogo Argentino was bred to be both a wild boar hunting dog and a loving family companion.  Recently they have become known more as pets but keep in mind, they are hunters!  Dogos need to learn and have a job to keep their active minds busy.  They need exercise and structure in the home, plus it takes an experienced handler to set the dog up for success as a hunter and as a pet. These dogs must be trained properly and that is the responsibility of the handler to guide and teach the dog on how to behave and who to respect. If your dogo is showing signs of dislike towards kids, people, or other pets you need to seek a professional trainer immediately, do not wait. The rescue sometimes will take in dogs with issues, but we prefer to help you work on them and correct the situation if possible. You are welcome to contact us, and we will help the best we can!
I still need to surrender my dogo
If you have tried all that you can but still need help surrendering your dogo you are welcome to contact us. Keep in mind we are generally above capacity and cannot take in every request that we get.  We want these dogs in the right homes and will help any way we can. We do ask that you continue to seek other reputable large breed rescues as well.
If you decide to personally rehome your dog be sure fully interview the potential owners and do a home check and background the best you possibly can. Once you give your dog up, you no longer have any rights to the dog so keep that in mind but still do a written agreement. Also be sure your dog has a registered microchip and up to date on vetting, spay/neuter, and preventatives as well. If you have someone in mind and want to ask us if they have a good/bad reputation, please contact us.
You can contact us with your surrender request via email and one of us will get back to you as soon as we can.  We help run a networking page dedicated to helping dogos from all rescues, owners, and shelters. You are welcome to join that page and post your dogo with as much information as possible.  Follow this LINK for that page on Facebook.
How to contact the rescue
Our rescue is all volunteer and our dedicated staff members also have full time jobs and responsibilities.  We will do our best to get back to your request in a timely manner, but we do ask that you have some patience with us during the process.
Click HERE to be directed to our Contact page for the rescue.
We hope this has been helpful and want the best for you and your dogo. There is a dogo community out there that loves this breed and people willing to help educate each other.  Let us be a resource for you and hopefully we can keep more dogs in their homes!